AUDIOS expansions in May 2019:
The AUDIOS can now be connected to a wide range of controllers, allowing you to play samples pitch-transposed on your favourite keyboard / sequencer!
Additional pitch-transposing algorithm selectable by user.
Independent Delay + Transpose, e.g. for creating delay-arpeggios.
Time-Stretching is independent of pitch and (you may not believe it) works in realtime!
The USB-Host-interface of the AUDIOS supports state-of-the art Midi controllers and keyboards such as:
– AKAI-LPK25 (exciting use of the arpeggiator)
– Komplete-Kontrol-A25 by NI
– Midi Fighter Twister by DJ Techtools for remote control functions
Additional MIDI-ports (DIN) for connecting classic MIDI-keyboards and DAWs.
Bringing AUDIOS features into the modular world (and vice versa!), via DB25 cable-connector for external breakout-boxes such as Cirklon, supporting 16x Gate-in, 4x CV-in, 2x CV-out, 2x Gate-out.
External Sequencers are able to interact with the AUDIOS e.g.:
Arturia Beatstep
Korg SQ-1
vpme Euclidean Circles
Doepfer Dark Time
Roland 808
Now possible: overlaying the internal step-sequencer with external devices will create exciting new grooves!
Most of the internal AUDIOS functions can be controlled by external MIDI e.g.
by CV / Gate, for example the preset keys 'Delay, 1, 2, 3, 4', the switch 'reverse sound', the knob 'memory length'.
Fast manual setting of the delay-time.
50 microseconds to 800 milliseconds in fine resolution steps of 25 microseconds for precise control of combfiltering, phasing, flanging and timebased stereo panning.
Delay-time can be adapted to external MIDI-Clock or Gate-Trigger:
1/1, 1/2, 1/4, 1/8, 1/16, 1/32, 1/64 normal, dottet, triplet…
Individual settings of the transposition-ratio on the device:
linear vs scaled (in semitone-steps).
Expanded sequencer-modes:
forward, backward, random, 2,3,4 steps and more…
Additional functions via external MIDI-CCs:
fine control of pitch: 1 cent resolution
fine control of delay: 25us resolution
octave-switch for pitch-range: up to 5 octaves down
mono-switch, difference-signal (side-signal): channel 1 minus channel 2
special, exciting and "dirty-sounds" in realtime.
We are open for new ideas and features of the AUDIOS,
contact us for additional requirements!
Klaus Fischer Sound Inventions
May 2019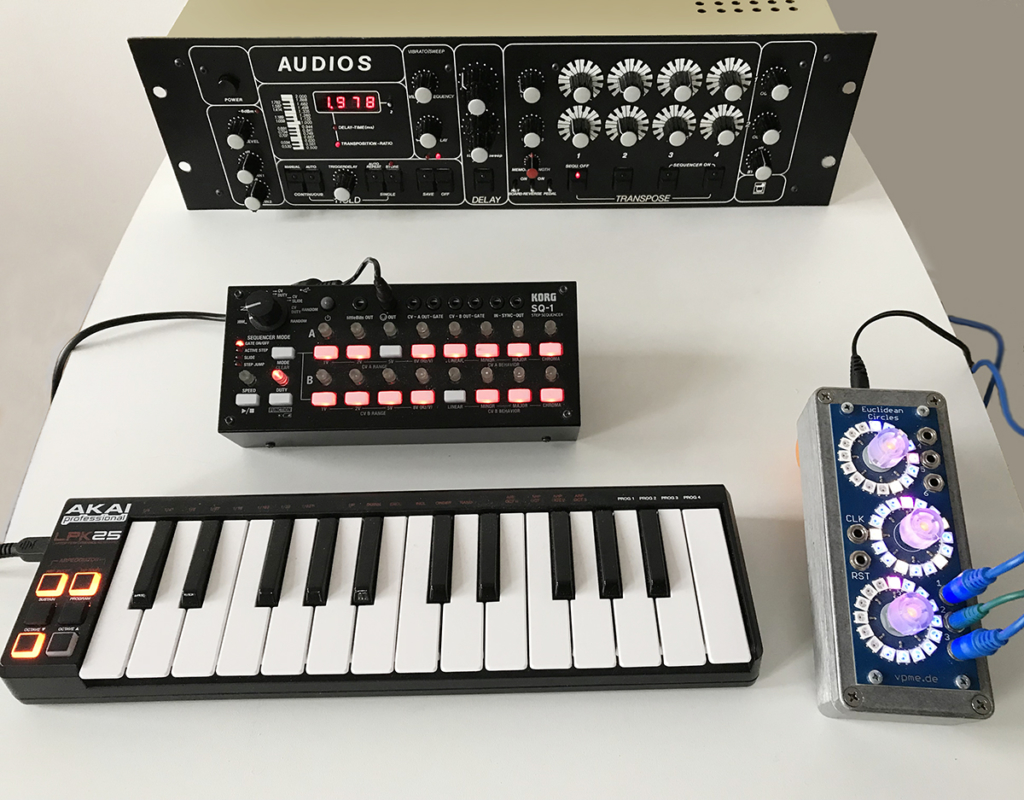 Foto: © Klaus Fischer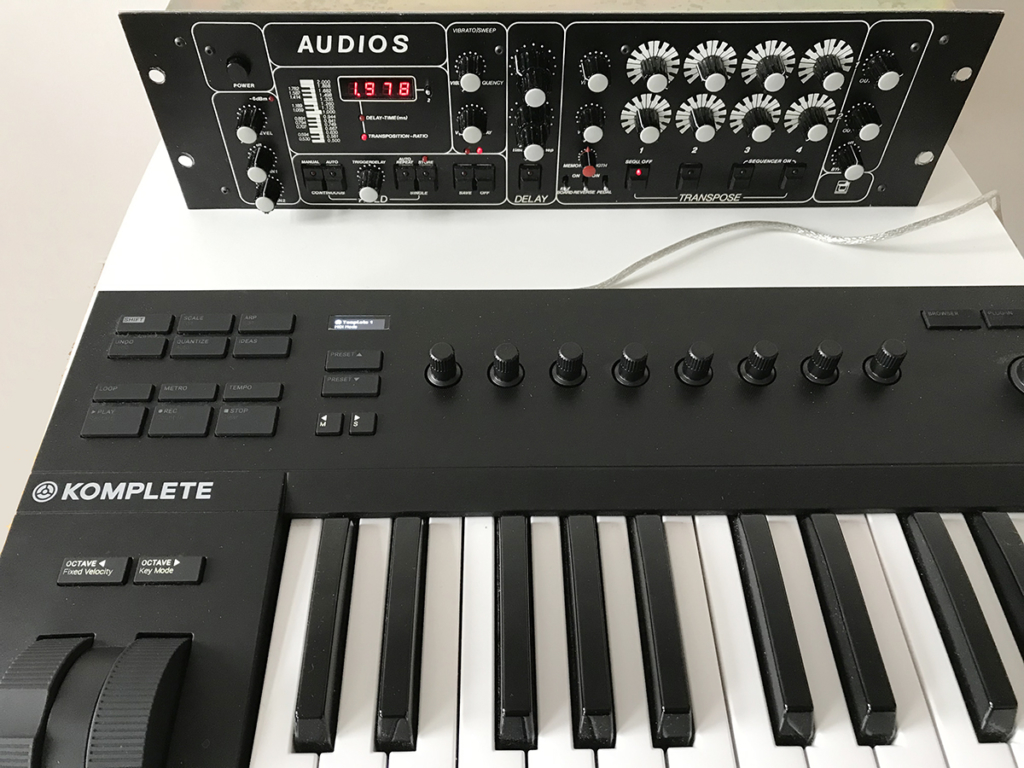 Foto: © Klaus Fischer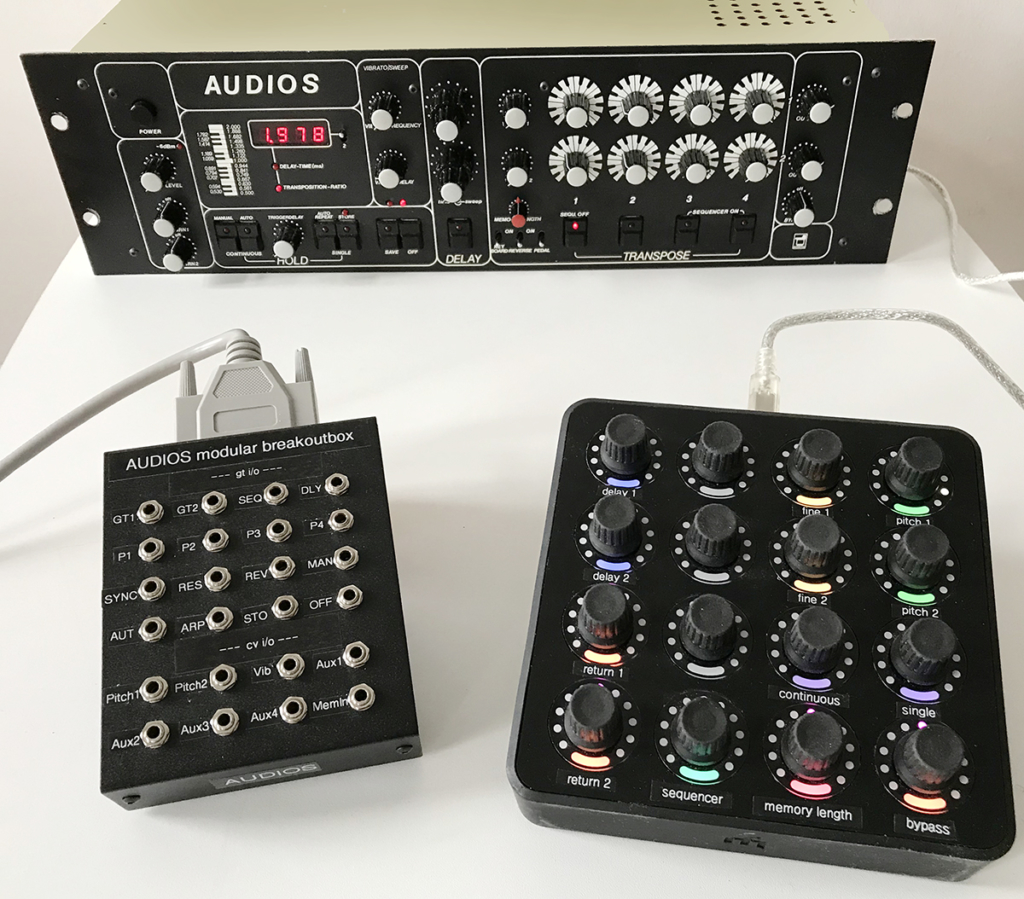 Foto: © Klaus Fischer